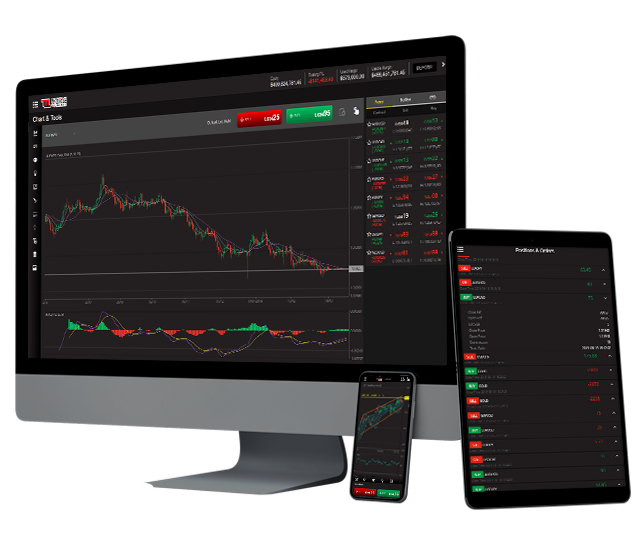 mF4 Trading Platform
m-FINANCE's mF4 Trading Platform is a sophisticated trading system designed for forex/bullion trading. The trading system is secure, stable and compatible with FIX protocol. The trader terminals support web, desktop (in Java and .Net), and mobile apps versions to suit the needs of all financial institutions.

The whole system includes four modules: Trader Terminal, Dealer Terminal, Back Office, and Price Engine. The design concepts of these modules are to allow brokers to have one-stop management of their business, monitor risks and have personalized settings.
mF Trading Platform Architecture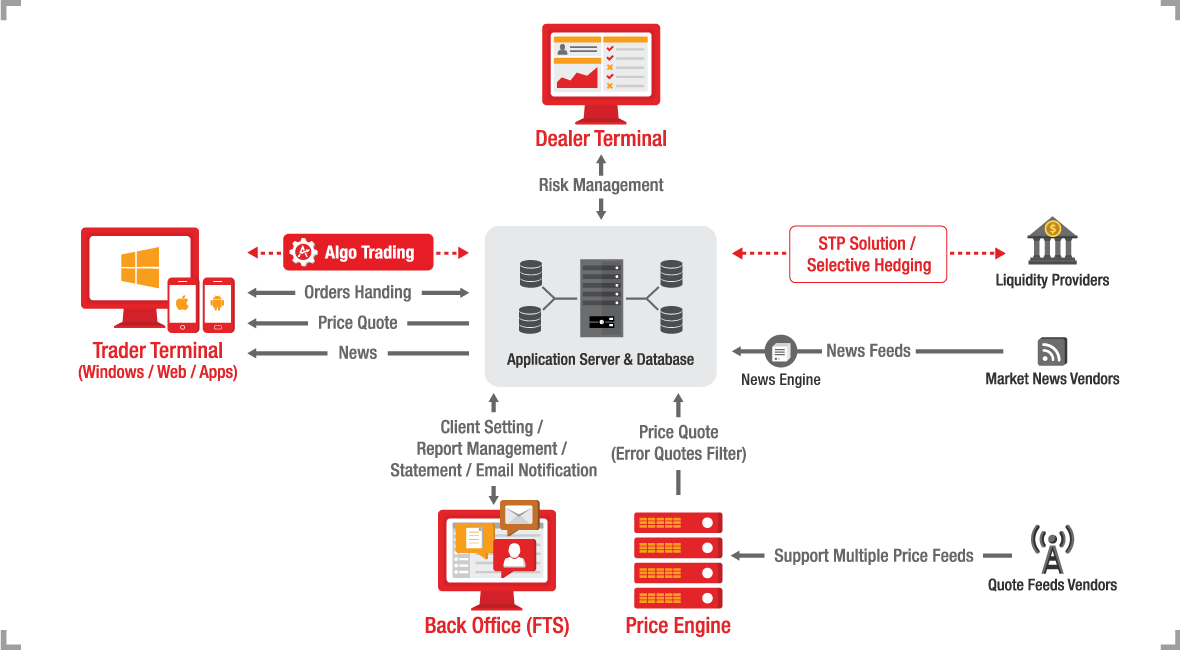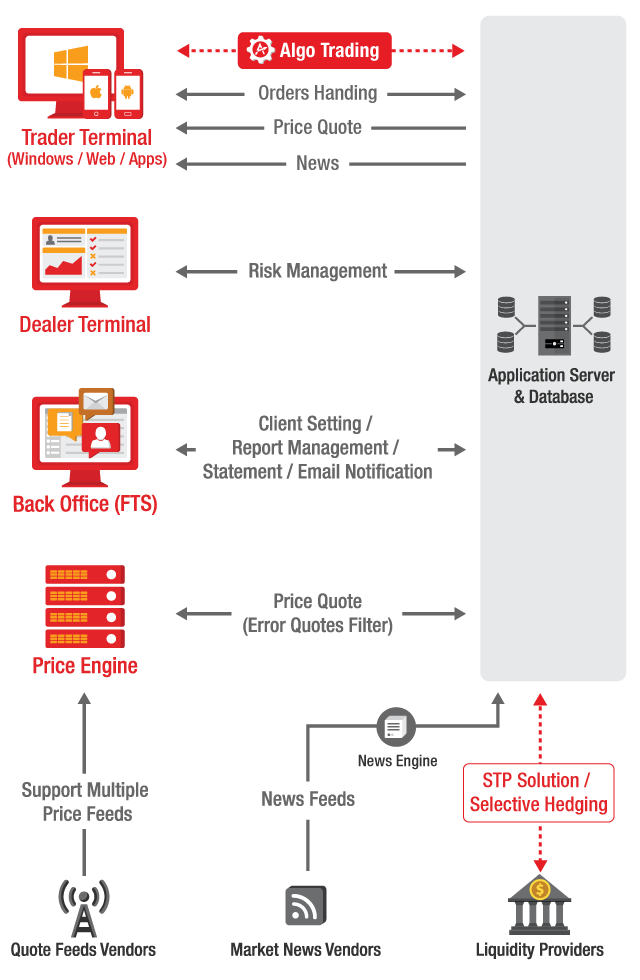 Trader Terminal
Web Trader
HTML 5-based Trading Platform

Intuitive interface with mobile compatibility, allowing investors access to their trading account from any web-browser

Responsive Web Design

Adaptive for smartphones, tablets & other mobile devices for investors' easy viewing and navigation

No Installation Required

No need to download, just open your browser, login your trading account and you can start trading anytime anywhere

One Click Trading

Simplify the trading process and speed up the trade execution time by preset the lot size, take profit and stop loss

Position Display on Chart

Investors can view the positions on chart, and the images of the charts can be shared or saved for later use

Trading Alert

Allow setting automated price and volatility alert to seize the trading opportunity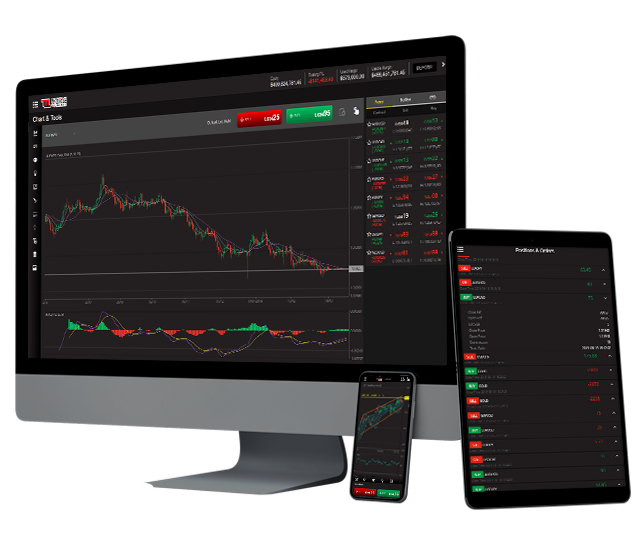 Desktop Trader
Preset Trading Lots

Preset trading lots to have one click trading, which is more convenient and faster

Flexible Limit/Stop Order Setting

Set limit/stop order by price, pips or profit/loss range, facilitating risk control and returns

Over 20 Technical Indicators

Latest Interactive Chart with over 20 technical indicators to choose. Users can also set various indicator parameter

Distinct Order Interface

Easy-to-use and clear instructions, helping you understand easily

Interactive Chart Information

Further information from charts and indicators, facilitating in-depth study and rational decision

Comprehensive News & Information

News, economic data and market analysis provided on a 24-hour basis, as well as real-time and fast streaming quotes, which help you understand the market and grasp trading opportunities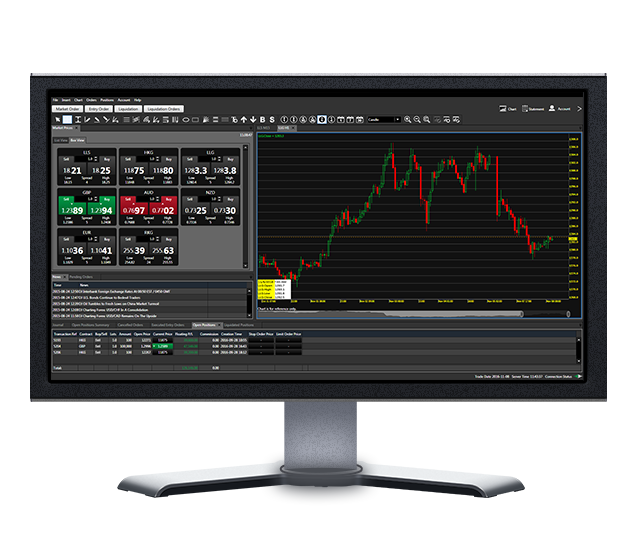 Mobile Apps
Diverse Mobile System

Applicable to various mobile operation systems, including iOS/Android systems, to match different clients' needs

Independent Encryption

Independent, encrypted and secure links set up to ensure safe communication between clients and the system

Comprehensive Functions

System functions including market / limit order, simultaneous liquidation, position summary, professional charts: chart functions including technical indicators (MACD,RSI…), technical drawing, real-time drawing

Information Interface

Add a new information interface on the mobile trading platform to view global financial news and forex/bullion analysis for Institutional clients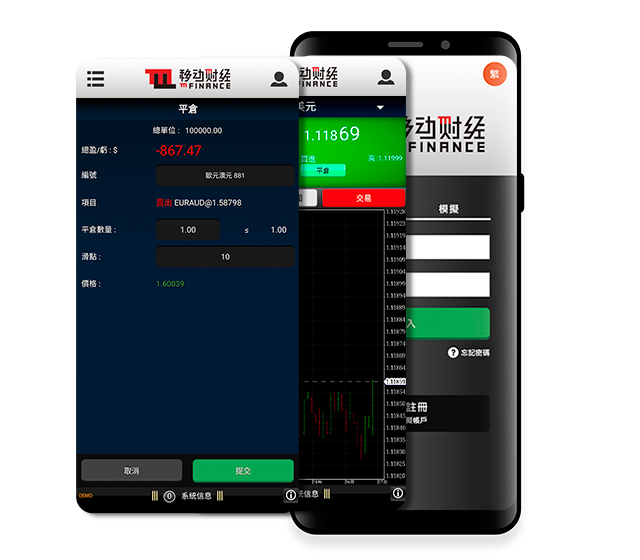 Dealer Terminal
Prevention of Churning

Help brokers/dealers self-define churning, which prevents agents from excessive trading in a client's account largely to generate commissions

Audit Trail

Record and track all trades and every action performed on the system
Manual Dealing Capability

Support manual approval function and help improve risk control mechanism

IP Monitor

Monitor IP addresses of trading with the same system, tracking suspicious clients
Back Office(FTS)
Multi-tier Agent Structures

Capable of creating multi-tier tree structures of introducing brokers and agents, facilitating overall management of different lines of business in one system

Authorized AE Trading

Support creation of agent accounts, which allows agents to log into the trading terminal to view client status and conduct authorized trading for clients
Tailor-made Account Setting

Different Setting for individual clients, including operation fees, margins and spreads, to enhance flexibility

Contract Size Setting

Support user-defined contract sizes, to save the cost of time and provide ease of trading
Efficient Report Management

Over 20 groups of business and management reports for a quick glance of the business

Effective Account Management

Effective management group setting, including deposit / withdrawal management, automatic / manual settlement, real-time order tracking, holiday interest rate and commission setting, etc
Price Engine
Error Quotes Filter

Self-define error quotes to enhance quotation accuracy and reduce risks aroused by wrong information in the market

Support STP

Support STP with fully automatic or selective hedging methods, freely switching between A-Book and B-Book
Price Feed Management

Support multiple data feed / integrated data feed connections to ensure price stability and accuracy

Data Feed Switch

Switch to backup data feed when the normal data feed is in disruption